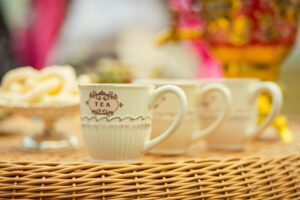 Vermarje Tea welcomes you to enjoy our new collection of teas that encourage our positive emotions, inspire us to do our work, and nourish our heart, mind and spirit – Teas by Another Name.
Tea is more than just the leaves of the camellia sinensis plant, brewed hot or cold – it's more than crushed herbs added to water to warm or cool the body. Teas by Another Name can help to inspire, encourage, honor, celebrate, support and empower you to live your best life, one cup at a time.
At a recent girl's weekend with my daughters, we talked about the Vermarje Tea brand and reflected upon our brand journey. A few years ago, I coined the phrase "Pause and Sip" to begin a shift from selling tea to promoting a lifestyle of comfort, relaxation and inspiration centered around tea. As we talked, and shared some wine, we started to come up with a list of positive, inspiring, and sometimes comical names and phases for our tea – No Drama Mama, Be Happy, You Got This, You Rock, Keepin' it Loose and Fancy Free were just a few. The naming process will continue, but by the end of the weekend, a few of our popular teas had new names:
Joy – our most popular black tea with vanilla bean
No Sick Days – a rooibos and honey tea
Hugs & Kisses – a black tea with chocolate chips and sprinkles 
We are coming into a spring season unlike any other we have ever experienced, as we step out into the sunshine and gather once again, cautiously, in person with friends and family. I invite you to make tea a central part of your gathering – tea on the porch, tea on the deck, tea in the backyard. We have everything you need to make any occasion, big or small, a celebration. If you live locally, please visit our shop at the Artisan's at Stetson Hall, 6 South Main Street, Randolph, MA – we are open Friday 12-5, Saturday 11-5, and Sunday 11-3.
As I rebuild my personal resilience after the recent loss of my husband Paul, and to become the best version of myself that I can be, I've become a student of mindfulness. I share with you my heart, full of gratitude and optimism. Watch for the next announcement in our Teas by Another Name journey, inspired by the books I've been reading:  The Happiness Result: More Time, More Health, More Love, More Success by Debbie Lyn Toomey; Becoming by First Lady Michelle Obama; Turning Pro and The War of Art: Break Through the Blocks and Win your Inner Creative Battles by Steven Pressfield; and The Untethered Soul: A Journey Beyond Yourself by Michael Alan Singer.
Today choose Joy 
Pause, Sip, and Enjoy the Moments